Two mens shirts, two japanese patterns, double refashions, double the hip.
Stripe Drape Top
Pattern: Garments of a Dignified Lady (Japanese Pattern Book),Pattern M (shown bottom left) size L. I'm really in love with this book and have traced off a few more for a rainy day.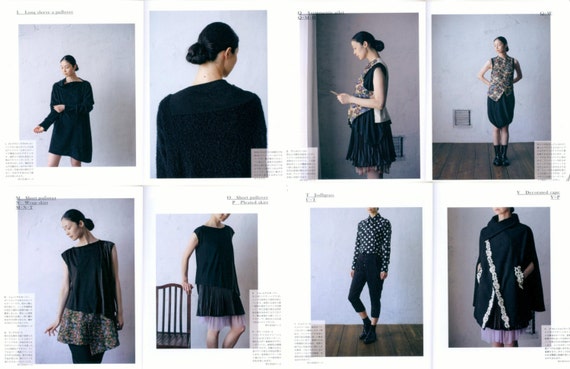 Fabric: Super blokes upcycled shirt and remnant from the stash (best guess it was hiding in the scrap bag I bough from Potters last year)
Ease: Easy, with just two pieces in the original pattern
Tidbits: I played with the stripes and placement a little and ended up with the above rejig. I shortened the pattern by 5cm so I could keep the original shirt hem, so I guess you should note it is quite long if you are thinking of making it, I flat felled all the seams in honour of the original shirt and finished the neck and arms with knit binding.
Lessons: It seems to fit quite well in a woven, which is what I was aiming to find out, but note it is quite long and I found the front neckline a touch high.
Score: 4/5 I'm predicting this will become a super useful summer top, and I'm certain I will make this again with a few tweaks.
Now to amp up the hip….
Hip Shirt
Pattern: Pattern Magic Stretch long sleeved version A (watch for the next post with more details on this pattern)
Fabric: Super blokes upcycled shirt and thrifted mystery knit
Ease: Easy
Tidbits: I spliced the top of this pattern onto the shirt, basting a few times to get the right ratio and placement. I felt like the knit was a bit thin for my purposes so I lined it with another layer of the same knit,and it gave me the structure I need. I enclosed the seam by hand herringbone stitching it to the seam allowance making it nice and neat on the inside.
My favourite detail is the little button on the back that I saved from the original yoke.
Lessons: I would like to try this with a really baggy shirt to get a bit more contrast between the fitted top and oversized bottom. I can wear this as a tunic over tights, just.
Score: 4.5/5 I love the simplicity of the concept, the hipster edge and the wearability.
He he, this pose cracks me up.
If you are keen on refashions, follow along with the refashioners series this August.